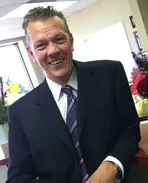 Dr. Christian Lund is a licensed Chiropractor serving the Silicon Valley area since 1995.
Dr. Lund constantly strives to improve and update his knowledge in the field of chiropractic, and has completed extensive study at Palmer College of Chiropractic, the oldest and most prestigious chiropractic college in the world, and has individually spent countless hours of training and education beyond those academically required. The end result is a scientifically perfected technique allowing patients of all ages to benefit from chiropractic care, including infants, teenagers, adults and seniors. Between his love of chiropractic and his love of serving humanity, his motto is "loving service first."
Dr. Lund will gladly share with everyone that the true joy of his practice is his large base of families that come in for wellness care. "Our chiropractic center offers natural relief of chronic pain, headaches, disc disorders, sports and auto accident injuries, however, my true passion is to help people reach a point of optimal wellness and keep them there. We help newborns, infants, teenagers, adults and seniors, and health-minded families choose our office for their chiropractic care."
Dr. Lund is always proud to work on God's people during the week and enjoys traveling, exercising, and watching his wonderful family experience life during his off time.
Dr. Lund and his staff practice the traditional philosophy of Chiropractic which is subluxation and structural correction of the spine. Simply put, a subluxation is a misaligned vertebrae which interferes with nerve impulses. Nerve impulse is the electrical impulse from the brain that regulates all function of the body and keeps us alive.
Although the traditional Chiropractor wants his patients to "feel better", his primary focus is removing nerve interference (subluxation) and restructuring the spine to it's most stable biomechanical position. This is done through a rehabilitation program of adjustments and spinal exercise.
The length of correction and frequency of adjustment is determined by the severity of the patient's subluxations and structural alignment.
Symptoms may be gone long before the spine is at its maximum corrected position so adjustment schedules are kept intense to allow structural correction in the shortest amount of time.
The patient is then closely monitored by postural patterns and X-rays until the subluxations are corrected and the spine is in its proper alignment.
By reviewing these before and after studies with the doctor, the patient actually sees the results.
Since subluxations are silent, and research shows they can begin at birth resulting in dysfunction and dis-ease, the traditional chiropractor recommends families to be checked, especially children.